Worcestershire survive Parkinson's feat to close in on victory
5 min read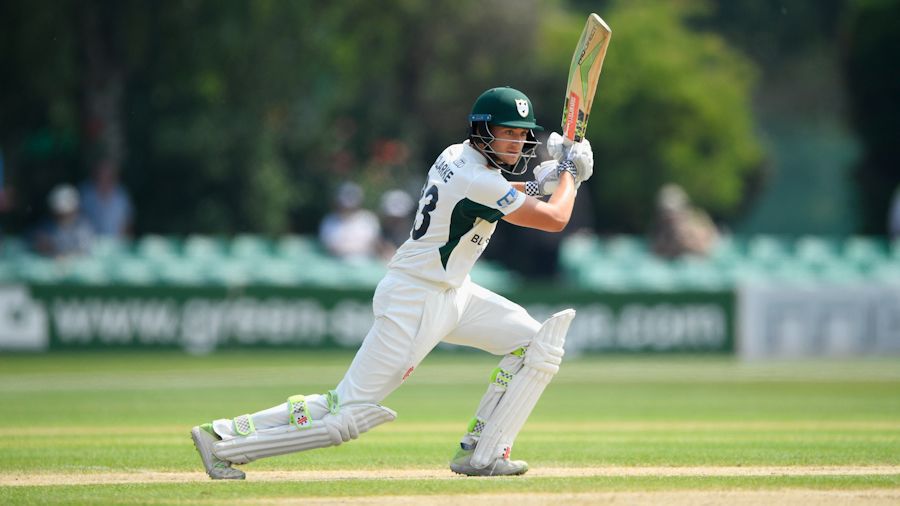 Report
Worcestershire have given themselves an excellent chance of securing promotion after a third successive County Championship victory
Worcestershire 493 (D'Oliveira 138, Cox 77, Mitchell 58, Parkinson 8-148) and 132 for 4 beat Leicestershire 404 (Dexter 114, Cosgrove 74) and 220 (Chappell 66, Hill 60) by six wickets
Worcestershire have given themselves an excellent chance of securing promotion after a third successive County Championship victory.
It may have taken them longer than anticipated – entry to New Road was free on Friday with a possibility that matters could be settled within an hour, but play ultimately stretched until around 3.20pm – but the result takes Worcestershire top of the table with only a couple of weeks of the season remaining.
The result from Cardiff means promotion is not assured as Northants have a game in hand. But the worst case scenario means Worcestershire will require a maximum of 11 points from their final match against Durham. As their captain, Joe Leach, put it: "It's in our own hands."
With Northants needing to defeat Nottinghamshire next week to sustain their own promotion hopes, it is entirely possible Worcestershire's promotion will be guaranteed before their next match begins. If so, it would be their fifth promotion in 11 years under director of cricket Steve Rhodes and the first time in the history of two divisions they will have found themselves in the division above Warwickshire.
It is a scenario that seemed unlikely only a few weeks ago. After the fall-out of the Tom Kohler-Cadmore affair and a gruesome T20 campaign – no team won fewer or lost more games – it seemed their Championship form was falling away. They won just one (and lost three) out of six Championship games in the middle of the season.
But a brief break and the acquisition of Ravi Ashwin has given them renewed life. While Ashwin's figures are relatively modest – he has claimed 13 wickets at an average of 33.46 in his three games to date – his presence has lifted the side. He is clearly relaxed in the environment – he is enjoying walking around the city without being recognised – and has inspired some of his young team-mates to this revival. Ashwin was the only man in this side not to have graduated through the Worcestershire system.
They are a couple of exceptional young players in this Worcestershire side. In 19-year-old Josh Tongue (who has 45 first-class wickets this season) they have one of the outstanding fast bowling prospects in the country – it is a long, long time since such a bowler came through the system here – while in 21-year-old Joe Clarke (who has 850 first-class runs this summer) they have one of the outstanding young batsmen. Both are set to be included in performance squads this winter.
"To be top of the league with predominantly home grown talent, we are very proud of that fact," Rhodes said afterwards. "To pick up maximum points with 10 Academy players makes you feel very proud.
"The new-ball spell on Thursday, when Leicestershire were reduced to 10 for 4, was a pivotal moment in the game."
They did not have life completely their own way on the final day. Leicestershire's eighth-wicket pair, coming together with the lead only 22, put on 103 in 23 overs as Worcestershire's ploy of testing them with the short ball backfired. Zak Chappell, in particular, produced some nice pulls as he recorded the second half-century of his career – the first, an innings of 96, was made on his first-class debut – with Lewis Hill adding measured support.
They played Ashwin well, too. Chappell brought up his 50 from 63 balls with a straight six back over the off-spinner's head and, as the lead grew beyond 100 and rain necessitated a couple of brief interruptions, Worcestershire nerves began to grow.
Finally, the short ball worked, though. Chappell and Doeter Klein pulled long-hops to midwicket before Lewis, left only with the No. 11, slog-swept to the square-leg boundary where Brett D'Oliveira held on to a well-judged catch. Leicestershire had lost their last three wickets for the addition of just six runs and Worcestershire required just 132 to win.
The pursuit was not entirely straightforward – D'Oliveira missed an attempted scoop, Daryl Mitchell played on and Tom Fell, with a top score of 39 in all formats this season, looks as if he needs a holiday – but the pitch remained true and Leicestershire, without a win this season, lacked the belief to turn the screw as some sides might have done.
It was, though, a day that offered some encouragement for Leicestershire, too. In 21-year-old Chappell they have one of the most outstanding prospects in the county game: an allrounder capable of bowling fast. He is raw, certainly – he is prone to fall away as he bowls and he doesn't seem to gain much lateral movement – but he has the potential to be fine player.
And in Callum Parkinson, who followed his eight wickets in the first innings – the best haul by a Leicestershire bowler since Devon Malcolm took 8 for 63 against Surrey in 2001 – with two more in the second to claim a first 10-for, they have one of the best young, left-arm spinners. Mark Cosgrove, the Leicestershire captain, went as far as describing him as "the best spinner in the game." While that might be wishful thinking, he is one of the players that provides hope of better times ahead for long-suffering Leicestershire supporters.
"Everyone's attention was on Ashwin, but Parky outshone him quite easily," Cosgrove said. "He's got a massive future in front of him and hopefully we can get the pitch to turn at Grace Road."
They could do worse than learn from Worcestershire. While some clubs look for their cheque book when they require a player, Worcestershire look to their youth teams. The England management and selectors talk of Rhodes as the most helpful and committed of all county coaches, one of the few who never questions why a player might be called into a Lions squad or rested from a key match. He, and the likes of the academy coach Elliot Wilson are producing players who could serve their club and country with distinction. For that, the entire English game should be grateful. Promotion seems a just reward.
George Dobell is a senior correspondent at ESPNcricinfo