Essex begin to build a new era
8 min read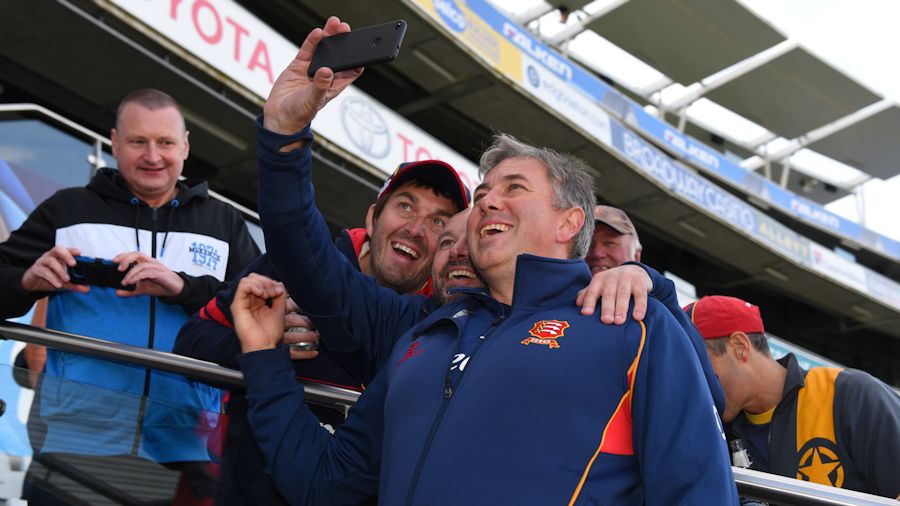 News Analysis
They talk a lot about the Gooch-Fletcher era in Essex, but Chris Silverwood has overseen an Essex revival now worthy of a conversation or two
There was no champagne at Edgbaston – Essex felt such celebrations would be premature – but Essex have secured the Specsavers County Championship title.
While Lancashire can, theoretically, still overhaul them there is no way it is going to happen in reality. By the same measure, there is now no escaping relegation for Warwickshire who have now been beaten by an innings twice this season by Essex.
It is – or will be – the seventh time Essex have won the County Championship (they won it six times between 1979 and 1992, so this is the first time they have won it without Graham Gooch featuring in their side) and the first time a promoted county has won in their first season back in the top division since Nottinghamshire in 2005. As Essex's captain, Ryan ten Doeschate put it: "That should have dispelled the myth about the gap between divisions. There really isn't much difference."
Few would dispute that Essex deserve this success. They are the only unbeaten side in either division and this was their eighth victory in 12 games. Nobody else in the top division has, at the time of writing, managed more than four.
One of the keys to victory has been the success of two bowlers: seamer Jamie Porter and off-spinner Simon Harmer. They are currently the only men in the division to have taken 50 wickets this season (Porter has 64; Harmer has 63) and have combined to ensure Essex have an attack for almost all occasions.
Meanwhile eight batsmen have provided Championship centuries. Blessed with the early availability of Alastair Cook – who demonstrated his commitment to the county by driving to Edgbaston to witness the final day of this match and will play in their next two games – the heart to fight for draws when others might have folded (Dan Lawrence produced an epic to save them from defeat in the first game of the season against Lancashire) – and the calm management of head coach Chris Silverwood – "I've never seen him lose his cool," ten Doeschate said. "He'll let you know what level you have to play to, but as long as you give your best, he has no complaints" – and you have a decent recipe for success.
While six years in Division Two rendered them as outsiders for the title in April, they had strengthened considerably and wisely ahead of the season. Varun Chopra was brought back from Warwickshire, Adam Wheater from Hampshire and Simon Harmer was recruited as a Kolpak registration. Meanwhile two left-arm seamers, Mohammad Amir and Neil Wagner, rotated as overseas players and created a few footholes for Harmer to exploit.
The addition of Harmer has been especially valuable. While the rights of the wrongs of Kolpak registrations can be debated, there is little doubt that Harmer filled a hole prevalent at most counties – the absence of quality spin bowlers – very effectively. In doing so, he might also have better prepared a few England-qualified players for the sort of bowling they may face at international level. There's no doubt he has been an asset both to Essex and the county game as a whole.
"We looked at what gaps we had," Silverwood said. "And one of them was a high-class spinner."
Essex is a small club in many ways. It does not host major internationals – it was one of the few to resist the introduction of the new-team T20 competition – it has a modest pavilion and, in recent days, their indoor school has had to be shut for a few months while it undergoes urgent refurbishment. A redevelopment of the ground has been on hold for years.
But it produces players. And the fact that this success was achieved largely by home-grown players makes it especially pleasing. Even in this match, without Cook, Essex fielded a side containing eight locally developed players. A few – Ravi Bopara, James Foster and Tom Westley – have already represented England and several more (notably 20-year-old Dan Lawrence) could well go on to do so. Elsewhere around the counties Reece Topley and Tymal Mills are contemporary England players who developed at Essex, while Ben Foakes may well become one in the coming months.
It was telling that, when Essex began recruiting last year, they made a point of targeting former Essex players – such as Chopra and Wheater – as their first priority. There was a time when they seemed to lack belief in their own – think of the signings of Sajid Mahmood, Charl Willoughby and Monty Panesar towards the backend of their careers – but, under Silverwood (and Ronnie Irani, who effectively heads the cricket committee at the club and might be considered something of an unsung hero), they have had the confidence to back their excellent academy and development system. They have reasoned that, having come up through the club's youth teams and knowing their teammates, they have shared experience, shared values and shared culture. They have reasoned that such shared culture will knit a spirit that would endure on tough days and help them soar on good ones.
"It creates a culture," Silverwood explained. "It means they fight for each other and they stick together. They believe in one another and whenever I've asked them for a bit more, they've always found that bit of energy.
"Everyone talks about the Gooch and Keith Fletcher era, but in 20 years I hope they're talking about this era. Yes, this success is probably more satisfying than winning the Championship as a player with Yorkshire in 2001."
Silverwood's success will, inevitably, increase speculation that England will come calling form him as their new bowling coach. He was not in the mood to talk about such possibilities – "Today's about Essex," he said – but he will be with England for a couple of days during the ODI series against West Indies and, perhaps, much more often in the future.
But perhaps no one exemplifies this Essex side better than 24-year-old Porter. By the end of the 2013 season, he thought his chance of making a career in professional cricket. He had enjoyed spells with Essex, Middlesex and three years with MCC Young Cricketers but, when no offers followed, accepted a job in recruitment. While England were losing the 2013-14 Ashes, he was sitting in an office trying to adjust to the realisation that his dream had died.
But he had a good start to the 2014 season for Chingford and, eventually, won another trial for Essex.
"I quit my job after one second team game," he says with the smile of a man who knows he is never going back. "Which was probably a bit rogue. But I had enough savings to get me through the summer so I gave it one last go. And here we are.
"One of the old sales bosses told me 'there's always a job there if I need it' and I remember thinking I'd look like a right muppet if I asked for my job back by the end of the week."
He needn't worry now. Maybe, in a drier season, he would have found less help for his seam bowling, but he has harnessed any help available in a masterful manner and played a huge part in a memorable success. It remains unlikely that England will come calling just now – right or wrong, his pace (around 80 mph) is sure to be seen as an impediment to progress – but his ability to maintain an immaculate length, hit the seam and gain movement renders him a fine bowler in English conditions. "It just shows you don't have to go to Test grounds to be successful," ten Doeschate said.
As for Warwickshire…. the last time they were relegated – in 2007 – they sacked their coach. That won't happen on this occasion as they accepted some months ago they are ripe for rebuilding and understand this will not be without pain. The fact that this was their fifth innings defeat of the campaign speaks eloquently of their struggle this year.
"The stats don't lie," their director of cricket, Ashley Giles, said. "It's been a horror show."
At the end of the 2018 season around £1.2m worth of players (judged in terms of their annual salaries) are out of contract at Edgbaston. It seems, therefore, inevitable that further raids on other counties will result in more new faces.
In the longer-term, though, they need to improve their record of identifying and developing local talent. Not to have produced a capped specialist batsman since Ian Westwood (capped in 2008 and now retired) or a bowler since Chris Woakes (2009) is a damning indictment of their system. They could do a lot worse than reflect on how Essex and, not so far away, Worcestershire, manage and learn the lessons.
To that end, good may come of their reverse. Blaming one individual – be it Ian Bell or Jim Troughton or Ashley Giles – would be as meaningless and simplistic as it was last year when Dougie Brown (and before him, Varun Chopra) was made a scapegoat for a season that might now be considered a harbinger for this one. The culture, the systems, the pathway need to change. In Giles they have the right man for the job – though it does seem fair to ask questions of a cosy-looking coaching staff that is stuffed with recently-retired Warwickshire players – but it won't be quick. The route out of Division Two looks steep and slippery.
"A little bit of pain may do us some good," Giles continued. "And it may be good for our guys to see Essex celebrating. They deserve to win and I'm over the moon for Chris Silverwood.
"But it hurts. I've never been relegated in a management position and yes, it hurts."
Such issues can wait. This was a day to focus on Essex, their admirable development system and their deserved success. While they may be the first non-Test hosting county to win the Championship since Sussex in 2007 (and only the second this century, though Sussex won it three times), they have provided a timely reminder of the value of 'smaller' clubs. Indeed, they have given some of the bigger clubs – and those who argue they are all that's required in a modern world – a wake-up call with their ability to produce players for England, sell-out T20 games and challenge on the pitch. For those reasons and more, theirs is a success that will be celebrated far outside the borders of the county.
George Dobell is a senior correspondent at ESPNcricinfo