Benton Smith: Shorthanded Jayhawks impress in crunch time against Wildcats
4 min read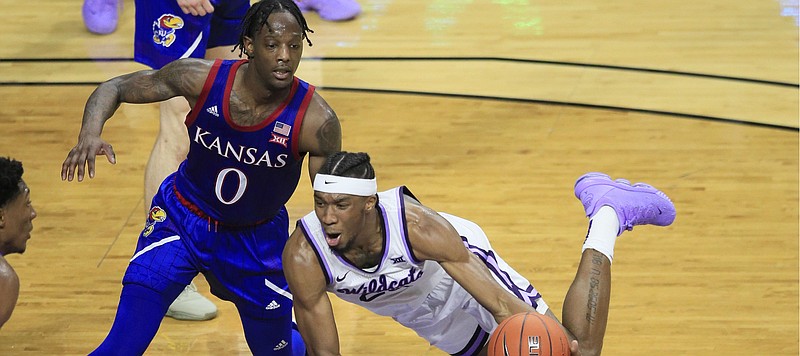 Manhattan — In a Kansas basketball season packed with significant road success, one of the least aesthetically captivating victories on the Jayhawks' resume won't get cast aside as an afterthought.
Most everyone figured KU would win Saturday at Kansas State. And they were right. But on a day that the Jayhawks, 62-58 winners in the Sunflower Showdown, gained sole possession of first place in the Big 12 standings — thanks to Baylor's loss at TCU — it was the way they navigated through crunch time that made a predictable outcome memorable.
Due to a right ankle injury Udoka Azubuike suffered minutes into the rivalry rematch, the 7-footer was nowhere near his peak form, while playing through pain. Seeing that was enough to inspire head coach Bill Self to go without his potential first-team All-American for the final 6:23.
The Jayhawks would have to reach the finish line minus their star center, who just seven days earlier, carried them to their most impressive and important victory to date, at Baylor.
KU led 50-48 when Azubuike headed to the bench for good versus K-State. And even though sophomore David McCormack isn't as intimidating or authoritative as the senior center he backs up, the Jayhawks' defense, as it so often has this season, sealed a win on an opponent's home floor.
The 0-for-February Wildcats (9-20 overall, 2-14 Big 12) dropped their ninth game in a row as KU closed out the final 6:23 by holding the ravenous home team to 2-for-7 shooting with two turnovers.
The Jayhawks, now 9-1 on the road and a perfect 8-0 in opposing Big 12 venues, have pulled off those types of finishes (and better) against more talented teams than K-State. But to do that without Azubuike, the shot-erasing protector of the paint, in crunch time made it all the more striking.
"Obviously Dok's a huge part of our team," senior Isaiah Moss said of steering through the final minutes without the banged-up big man. "We had to really fight and grind out some possessions with him out. But we're going to make sure he's good and try to get him back for the next game."
With Devon Dotson carrying No. 1 KU (26-3, 15-1) to this particular road win, the team's role players had to chip in where they could to support the star point guard. And with half of the team's one-two punch out of the mix for the decisive stretch of the second half, members of the supporting cast, such as Christian Braun, considered it encouraging that they finished off a tight rivalry game while not at full strength.
"Yeah, it's good to see. It gives you confidence in other people," said Braun, who knocked down a crucial 3-pointer that extended the KU lead to 5 with 4:53 remaining. "But obviously that's not how we want to be going forward. Obviously we're not as good without (Azubuike) in the rotation. But it was good to see that we can all step up."
At this time of year, it's desperation season in college basketball for many teams, who have played themselves completely out of postseason contention or onto the dreaded bubble. That's part of what made the Wildcats all the more pesky versus their in-state rivals.
The Jayhawks' collective road game muscle memory kicked in on the final day of February. Dotson said their various road experiences should serve them well in the March matchups that await them, too.
"Each game we get more and more battle-tested for the postseason," Dotson said, adding that will help their resolve when the stakes are higher in the NCAA Tournament. "Learn how to find a way to get a win in hostile environments and crucial times. Each game you learn from it."
These Jayhawks have reached a point where winning is just about all they remember. Riding a 14-game streak of victories into the final week of the regular season, they haven't lost since Baylor announced itself to the college basketball world with its Jan. 11 win at Allen Fieldhouse.
Not that the Jayhawks have forgotten about their most recent setback, which now feels like it's from the distant past.
"We dropped one at home, so we've got to get every one on the road," Braun said. "Every win's important in the conference race. But to get a win without Udoka playing — he played, he had a couple good moments — but without him being 100%, it means a lot for the confidence of the team."
The best team in college basketball survived out of character days from several of its rotation players, including junior Marcus Garrett, who played "on one leg," as Braun put it, referencing Garrett's foot injury that he's playing through.
And the Jayhawks' ability to make that happen on the same day the Bears, their challengers to the Big 12 throne, could not just made the accomplishment, an ugly win at face value, stand out as another indelible win in their ascent.