49ers defensive teammates share what it's like to go against physical Deebo Samuel and Brandon Aiyuk
4 min read
Cary Edmondson-USA TODAY Sports
The San Francisco 49ers got wide receiver Deebo Samuel back on the practice field on Wednesday. It has been over three months since the second-year player suffered a Jones fracture in his left foot after a player-organized workout in Tennessee.
Samuel plays with a lot of physicality, which was evident from his rookie campaign last season. He finished the year with 57 catches for 802 yards and three touchdowns while adding 14 carries for 159 yards and three more scores.
Samuel's teammates know what an impact the young receiver can make on the team. And I'm not talking about those who play with Samuel on offense. Two 49ers defenders discussed what the former Gamecock brings to the team.
Safety Jimmie Ward was asked how difficult it was to practice last year against a player with Samuel's type of mentality. He wasn't just trying to run you over on rushing plays. The receiver didn't shy away from a big hit while hauling in passes either.
"Just very difficult (to go against) because after the catch, he can also run, and he's a hard tackle too," Ward told reporters on Wednesday. "Just his style of play is phenomenal. Deebo is just an outstanding talent."
Linebacker Fred Warner, one of the team's rising stars, also praised his offensive teammate.
"I feel like he's just a running back at receiver," Warner said. "His mindset his very different. The fact that he was able to do the things that he was doing last year as a rookie, those are the type of dudes that [head coach Kyle Shanahan] is looking for to play receiver. That's kind of the mindset in that room, is every time you touch the ball, you're trying to go to the house.
"He's a very physical runner and blocker. Whenever he comes back, it will be good to have him."
Shanahan has to be salivating at the prospect of finally pairing Samuel with his other dynamic receiver, Brandon Aiyuk. The rookie showed off his versatility this past weekend against the New York Giants, racking up 101 all-purpose yards that included 70 receiving and 31 rushing yards on eight touches.
"Very physical," Ward said when asked to describe Aiyuk. "He actually hit my one time in camp when I picked up his fumble. It was a good lick too. I like it. I like that about him. He doesn't talk much, has very long arms. I don't know if you all paid attention to that. … Just a very humble young kid. Very talented too, as well."
We'll see if Samuel makes it onto the football field this weekend against the Philadelphia Eagles. These next few days of practices will determine whether or not that happens.
"He's healthy, so we just want to see him out there and get back in the swing of playing football," Shanahan said before practice. "It's been a while since he has. I know he's been working hard on his own with football and everything with our trainers and everyone else with the rehab.
"We just need to see him go through three days, and what type of shape he's in. And if he can protect himself, he'll be out there."
More San Francisco 49ers News
Kyle Shanahan, 49ers have Brandon Aiyuk doing Deebo Samuel-type things
By David Bonilla
Sep 29, 2020
Deebo Samuel looked great out there on Sunday.
Oh, wait … that wasn't Deebo.
That was rookie wide receiver Brandon Aiyuk doing Deebo-like things on the football field against the New York Giants. It looked very familiar, though, as broken down below by NFL Network analyst Brian Baldinger.
A coming out party for @THE2ERA and some of the things he is going to bring to this @49ers offense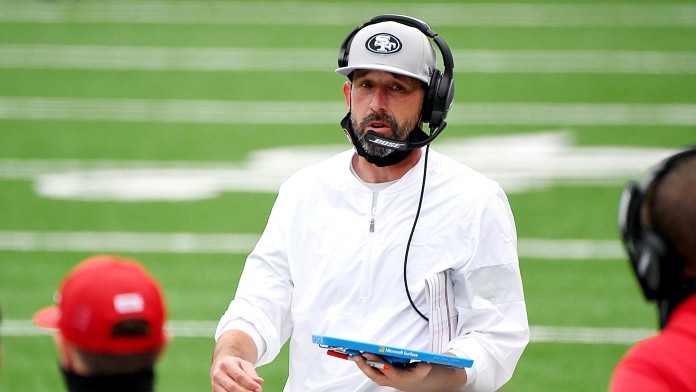 Kyle Shanahan talks injuries, Nick Mullens, Jimmy Garoppolo, Deebo Samuel, Brandon Aiyuk, Kyle Nelson, Dee Ford
By Site Staff
Sep 28, 2020
San Francisco 49ers head coach Kyle Shanahan spoke with reporters on Monday, the day after the team's 36-9 win over the New York Giants. Here is everything he had to say.
Transcript provided by the San Francisco 49ers Communications staff.
Opening comments:
"I'll start with injuries first. [TE] Jordan Reed ended up having a knee sprain. He'll be out a while. He'll go on short term IR. [CB Emmanuel] Moseley is in the concussion protocol. [RB Jerick] McKinnon, rib contusion, day-to-day and [LB Mark] Nzeocha had a quad strain. He'll most likely go on the short-term IR also. [CB] K'Waun [Williams] had some hip discomfort. We're looking into it right now. We'll see how he is on Wednesday. As far from the other guys who didn't
Mohamed Sanu and Brandon Aiyuk active vs. Jets; George Kittle, Dee Ford among 49ers' inactives
By David Bonilla
Sep 20, 2020
The San Francisco 49ers have released the list of inactive players for their Week 2 matchup at home against the New York Jets. These players will not suit up for Sunday's game.
NFL teams can each have 48 players active on game days. This season, each can promote one or two players from the practice squad up to 90 minutes before kickoff, potentially increasing the active roster up to 55 players. After the game, any elevated player will revert back to the practice squad without having to go through waivers. Teams can do this twice with each player before subjecting him to waivers first.
Among the inactives are tight end George Kittle and pass rusher Dee Ford, who were both ruled out for the game. Kittle is dealing with an MCL sprain and bone bruise,